Release Strategy for Maximizing Views on your Cover Videos (guidebook) – $19.95
Singers and Musicians! Are you just getting into putting out cover videos? Maybe you've just started doing videos, and you're struggling to boost the number of views on your channel; or maybe you're already an avid YouTube artist, but you haven't been too impressed with the number of views you're getting. Maybe you haven't put out any cover videos yet, but you want to know how to make yourself stand out right from the get-go. Wherever you're at, our guidebook – "25 Steps to ROCK Your YouTube Views – How to Maximize the Views on Your Cover Video in 1 Week Without Paying a Cent" – will take you one step further. [WATCH VIDEO]

What You Get
1. You will be taken to a download page immediately after purchasing this guidebook
2. Detailed 25 step strategy for maximizing the number of views on your next cover video
3. We'll show you what to do BEFORE your cover video even exists so that it can have more of an impact when it comes out; how to put your video on a few different sites in a single upload; and specific actions that you need to do both online and offline to really take advantage of this massive "world wide web stage" that you have access to
4. The "ROCK my Views" Checklist, which summarizes this guide into specific action steps
Requirements
- You need to be willing to invest your time
- You need to commit to completing every single step in the guidebook AND you need to do it within 2-3 days of uploading your cover video, in order to see results
New release DISCOUNT OFFER — we are offering 25% discount for the first 50 orders! Click on the button below to download this now!

---
Fan Page Set Up (Facebook) – $49.95
Don't have the time to set up a proper Facebook Fan Page? You know you need one, but don't know where to start? What if we could take that hassle away from you and just hand over your completed Fan Page with everything ready to go? One word: Sweet.
What You Get
1. A fully personalized Facebook Fan Page completed and ready to go
2. Comes with a fully designed Timeline Graphic
3. Installation of customized Apps (ie. YouTube, Twitter, Static iFrames Tab)
4. All aspects of your Fan Page completed (Photo Albums, About Section, etc.)
Requirements
- Send us any text to go on your Timeline Graphic, App Graphics, About Section, etc.
- Send us the required images for your Timeline Graphic, Profile Image, Photo Abums, etc.
---
Timeline Graphics (Facebook) – $19.95
Every Facebook Fan Page NEEDS a Timeline Graphic that captures attention, states who you are and what you do, and looks AMAZING. If your Timeline Graphic lacks any of these characteristics, you need an upgrade!
What You Get
1. A high resolution Timeline Graphic ready to impress!
Requirements
- Send us any text that you'd like on your Timeline Graphic (please note that Facebook doesn't allow you to put any website addresses, promotions or contact information)
- Send us any photos/images you'd like on your Timeline Graphic
- Have a specific color in mind for the background of your Timeline Graphic (optional)
---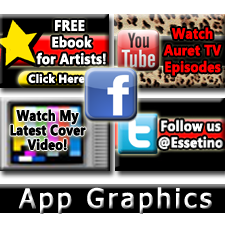 Timeline App Graphic (Facebook) – $14.95 (up to 5 app graphics)
What are App Graphics? App Graphics are the small images that link other applications, such as YouTube, Twitter, SoundCloud, etc., to your Fan Page. These appear as standard generic graphics, but you have the ability to customize these graphics and include a "Call to Action" (ie. Follow me on Twitter, Subscribe to my YouTube Channel). It adds a unique flavor to your Fan Page and also entices others to check out your video, music, or blog content on other sites.
What You Get
1. Up to 5 high resolution App Graphics
2. A tutorial video on how to install your App Graphics on your Facebook Fan Page
Requirements
- Send us the text you'd like on your App Graphic(s)
– Send us any images you'd like on your App Graphic(s)
---
One On One (Skype Sesh) – $39.95
Do you have your key social media sites – Facebook, Twitter, Youtube – set up but have no clue what to do with them? Just got a website but you're thinking 'ok, now what'? Are you just starting to get into this whole "promoting yourself online" thang and you're confused on what the heck to get started on? Give us a call! Wherever you're at, we'll create an action plan for you and give you specific achievable steps to help take your online promotions to the next level to grow your fanbase.
What You Get
1. 1hr Skype Video Call with both Jewel & Auret
2. An in depth evaluation / analysis of your current online presence
3. A clear understanding of what you need to do to improve your online presence
4. You get to ask us anything about your social media plan
5. After the call, we'll send you your next action steps via email
6. 20% off all of our other services
Requirements
- Send us all of your social media links (Website, Facebook, Twitter, YouTube, etc.) at least 1 week before the scheduled call
- Come prepared with your questions and your goals / what you want to achieve online
- Have all your social media sites open on your computer (Website, Facebook, Twitter, YouTube, etc.) as we will be referring to them on the call
---
Websites (WordPress) – $499/$599/$699
If you are an artist there's no doubt that you NEED a professional website to represent yourself. It's the heart of everything that you do online, including building your fanbase, and it should showcase you in the best possible way. WordPress websites are very user friendly and excellent with search engines; they're perfect for those who want to be in control of their site without needing to know any code…and of course, they look GREAT – clean and professional! Feel free to check out our portfolio or contact us for a consult. You can also view our "Pre-Design" Checklist if you're stuck on how to plan for your website.
What You Get
1. A professionally designed and personalized WordPress website
2. Customized domain name (www.yourwebsite.com)
3. WordPress Installation with required plugins and social media widgets
4. Up to 5 pages ($499), 6-7 pages ($599), 8-10 pages ($699)
5. Personalized email address to match your domain name (i.e. info@yourwebsite.com)
6. Two 1hr Tutorial Skype calls where we walk you through how to manage your own website
7. First 30 days of maintenance/edits to your website included
Requirements
- 50% deposit and ALL website content (including pictures, text, links, articles, videos, etc.) must be provided to us before we can start on your website.

- The payment and content must be provided to us within 1 week in order for us to complete your website within the following week (completion time is variable if you're needing more than a basic website)
- The remaining 50% of the total cost is due upon completion of the website
*Please note: hosting is not included but can be offered at $6/month (discount applies for hosting over 1 year).